Research Interests:
Nanomaterials for energy storage and conversion.

Interests outside of school/research:
Soccer, running, cycling and travel

How did you hear about the program? Why did you apply?
I heard about ACCESS through my undergraduate program adviser. I applied to the program because it seemed like a great opportunity to learn more about the graduate admission process and gain a broader understanding of the different research areas within chemical engineering.

What were some interesting/fun things you did at ACCESS and/or people you met?
I had a great time touring Boston and experiencing the city's rich culture. I learned valuable information on what admissions officers really look for and how to make my graduate school application as competitive as possible. I also made numerous undergraduate friends during the trip whom I still keep in contact with and whom I have crossed paths with at a number of my graduate school visits since then.

Favorite part of the weekend and why?
Delivering my 2-minute elevator pitch research presentation. It gave me the opportunity to receive valuable input on how to improve my presentation and delivery skills.
Do you think you benefitted from the program – did it help you in any way?
Why or why not?
I definitely benefited from the ACCESS program.
The 2-minute elevator pitches allowed me to hone my presentation skills. The panel discussion with the MIT admissions faculty gave me valuable insight into how I can make my application as competitive as possible.  But most importantly, ACCESS solidified my decision that graduate school is the right next step for my future.

Prior to attending ACCESS, did you have plans to apply for graduate school? How did ACCESS impact your decision?
Yes, I did previously have plans to attend graduate school.  However, this confirmed these plans.

Are you planning on applying to graduate school now? If so, where?
I will be attending graduate school this upcoming fall.  The final decision has yet to be made, but I am currently deciding between Northwestern, Georgia Tech, Vanderbilt and Yale.

Where do you see yourself in 5 years? 10 years?
I envision myself as a chemical engineering faculty member 10 years from now.

Anything else you want to share?
ACCESS is a great opportunity for any student, regardless of whether or not you have ever considered going to graduate school.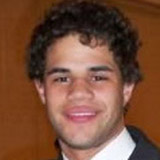 Novi, MI
Chemical Engineering
Minor: Energy Systems Engineering
University of Michigan, Ann Arbor
Current Position:
Georgia Tech (Ph.D.)