Research Interests:
Sickle cell disease; nanotech; drug delivery.
Interests outside of school/research:
Tech stuff (social media); working on a startup now (ClickShr.com)

Interesting things you did at ACCESS and people you've met?
I really enjoyed exploring the city and new meeting people (especially Bob Langer and Paula Hammond).
Favorite part of the weekend and why?
The duck tour was amazing; Boston truly is a historical city with such a rich story to tell. I loved that aspect.
Do you think you benefitted from the program – did it help you in any way?
Why or why not?
ACCESS definitely helped because I was able to get inside information about the admission process that I was able to use to my advantage as I completed my admissions applications.

Prior to attending ACCESS, did you have plans to apply for graduate school?
How did ACCESS impact your decision?
I was planning on going to graduate school for a Ph.D. before ACCESS, but after the program, I was definitely sure without a doubt.

Are you planning on applying to/attending Graduate School now?  If so where?
I'm a BME Ph.D. student at GaTech and Emory.
Where do you see yourself in 5 years? 10 years?
5 years = running a business/receiving my Ph.D.; 10 years = lead researcher for someone (perhaps my own biotech company).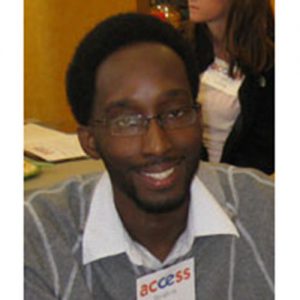 Cleveland, OH & Jersey City, NJ
Chemical & Biomolecular Engineering
Minor: Biochemistry
The Ohio State University
Current Position: 
Georgia Tech/Emory Univ (BME PhD)